Invincible Iron Man #507. This issue was just so-so, seems to be setting up for bigger things in the next issue. Tony had an outstanding drunk face in this, I honestly think it's his best drunk-face ever.
This is really the only part I have anything to say about, I would like to think that this indicates Pepper actually did notice that Tony took the wine bottle. Her irritation with him, otherwise, is unjustified unless we're just going for the "Hi, I'm Pepper and I'm a bitch for no reason" excuse. I thought that she noticed because of the super dramatic "shame shading" on her face in the last issue as Tony walks away, with the wine bottle nowhere to be seen and then her thoughts in the above scene make me think she did notice. I am not sure how I feel about it, that she noticed and didn't try to stop him or that she didn't try to stop him because she had to have faith that he wasn't going to drink, but with her thoughts in this scene I would say she doesn't have that faith... or she's mad he took it, period, faith aside. Not sure, not sure how I feel. Or I am digging way deeper into this and she simply is annoyed for thinking of Tony, for wanting Tony to come to her rescue because she wants to be able to handle things on her own without that feeling of wanting/needing to be saved or needing him around to succeed in being a hero in her own right.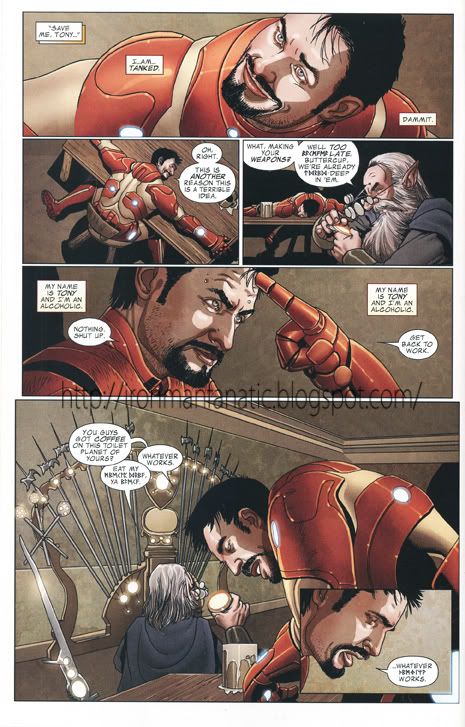 Best drunken face ever.
*click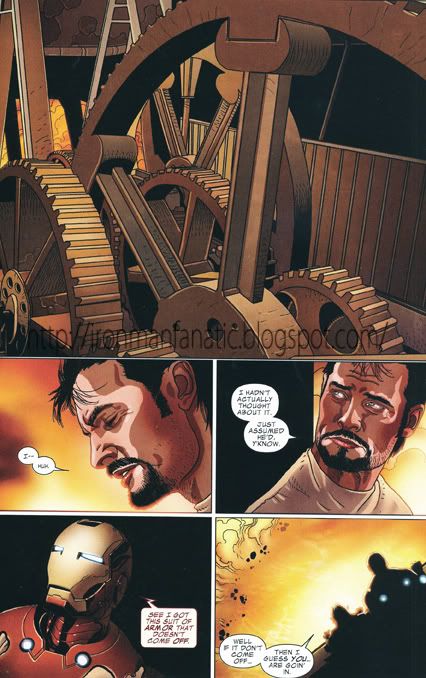 I liked the dialog in this, "stupid, stupid drunk" also always a sucker for scenes with Tony working, especially working in clothing that shows his chest hair <3 We can also see a little preview of some of the weapon(s) he's working on. Built with love and ale, lots of ale.
Please support the comic industry. If you like the scans you see here, please purchase the comic. You can find comics online by going to websites like Midtown Comics http://www.midtowncomics.com/ or purchase a subscription by visiting Marvel Comic's official website http://subscriptions.marvel.com/ or you can check out the place I get my comics from, they also ship- http://www.modernagereader.com/