This entire comic was literally all Steve/Tony. I highly recommend it. Also, loved the drawings. Both of them looked --- great ---. I'd have scanned the entire comic but that's not nice so I painfully narrowed down to my favorite pages for dialog and art.
Click on the images to go to the gallery and see 'em at full size.
Scans all done by me. So if you use them for other stuff, take, re-post, whatever--- credit me with a link to my blog!

Icons here.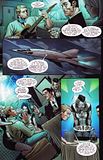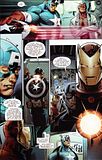 And some clips from other pages of panels I really liked: